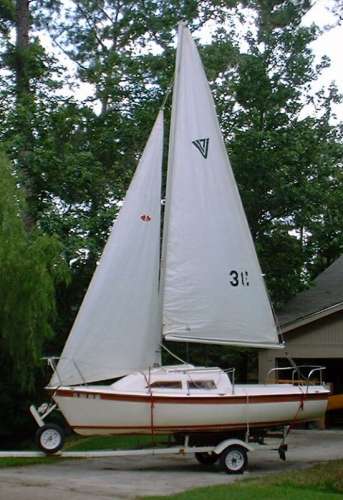 Boat Name
Vagabond 17 / Holder 17
Manufacturer
Vagabond Sailboats / Holder Marine
Hull Type
Pocket Cruiser
LOA
17'0"
(5.18m)
Beam
7'3"
(2.21m)
Weight
950
(431.78kg)
Ballast
345
(156.8kg)
Keel Type
swing keel
Berths
4
Draft Up
1'8"
(0.51m)
Draft Down
4'2"
(1.27m)
Year Start
1976
Year End
Number Made
400
Country
USA
MIC
VAG
Shortypen ID
1
Clone
[ definitions ]
[ suggest corrections to specs ]
2017-05-28 by: Paul C
Hi Shorty,
Took my new 'to me' vagabond 17 out for the 1st time... boy, what an ordeal to get it out of the trailer! Maybe the trailer is not set up correctly, but I had to disconnect the trailer from the car and roll it out tied to a strong rope or risk turning my jeep Cherokee (pretty high car) in to a submarine!!! Did you had any issues like this?
------------------
Hi there --
Frustrating isn't it ?? The issue isn't just with Vagabonds, all shoal keel sailboats can need
...read more
(picture)
2017-05-29 by: Paul C
I had a problem with the winch, the winch handle stopped turning the worm after a few turns. I was able to figure out the winch issue... the handle bolt is attached to the worm mechanism with a pin. That pin must have broken off.. I was able to temporarily attach a nail to make it work, and will look for the right size stainless pin or bolt.